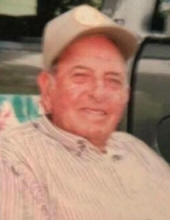 Obituary for Roy Lewis McCubbin
O B I T U A R Y
Mr. Roy Lewis McCubbin of Summersville, Kentucky, son of the late Coy McCubbin and Lertie Lewis McCubbin, was born on Thursday, December 15, 1932 in Larue County, Kentucky, and departed this life on Saturday, January 6, 2018 at the Grandview Nursing and Rehab in Campbellsville. He was 85 years, 22 days of age.
He had made a profession of faith in Christ and was a member of the Oak Forest Cumberland Presbyterian Church. He was also a retired heavy equipment operator for 22 years for the Kentucky Highway Department.
He was preceded in death by his 1st wife, Edith Milby McCubbin on June 6, 1997 having united in marriage on January 19, 1952. He later united in marriage to Virginia Trowbridge on July 4, 2000 who survives.
Other survivors include a son and daughter-in-law: Mike and Gaye McCubbin of Summersville; a daughter and son-in-law: Connie and Terry Wood Marr of Summersville; three step-children: Regina Robertson, Tammi Whitlow, and Dewayne Hardwick all of Greensburg; a grandson: Jody Marr and his wife, Christy of Columbia; three great-grandchildren: Rachel Marr Merideth and her husband, Trevor of Greensburg, Jayden Marr and Jordy Marr both of Columbia; three step-grandchildren: Craig Robertson, Brandy Villapina, and Amber Whitlow; three step-great-grandchildren: Riley Robertson, Maya Sales, and Arcangel Lopez; and a host of other relatives and friends.
Mr. McCubbin was also preceded in death by a granddaughter: Jessica McCubbin on September 23, 2000.
........................................
The funeral services for Mr. Roy Lewis McCubbin will be conducted at 10:00 A.M., Central Time, Wednesday, January 10, 2018 at the Cowherd and Parrott Funeral Home with burial to follow in the Wilson Cemetery. Bro. Robert Knight and Bro. Allen Durrett officiating.
Visitation is requested from 4 P.M. until 8 P.M., Central Time at the Cowherd and Parrott Funeral Home and after 7 A.M., Wednesday until time of the funeral service.
Memorials are suggested to the Wilson Cemetery Fund or Hosparus of Green River, which can be made at the funeral home.
For online condolences log onto: www.cowherdandparrott.com or Facebook.
PALLBEARERS:
Brad McCubbin, Jody Marr, Ray Hudgins, Kelvin Ford, Jeff Bradshaw,
David Maddox, Trevor Merideth, Doug Hodges.
HONORARY PALLBEARERS:
Anthony Creason, Ruel Bishop, Pete Vaughn, Gary Curry,
Mike Edwards, Freddie Robertson, Dennis Whitlow.
Previous Events
Public Visitation
Cowherd & Parrott Funeral Home
206 South Main Street
Greensburg, KY 42743
Central Time
Funeral
Cowherd & Parrott Funeral Home
206 South Main Street
Greensburg, KY 42743
Central Time
Cemetery Details
Location
Wilson Cemetery
Montgomery Mill Rd
Summersville, Kentucky 42743
Memorial Contribution
Hosparus of Green River
295 Campbellsville Bypall #5
Campbellsville, Kentucky 42718
Wilson Cemetery Fund
Summersville, Kentucky 42782