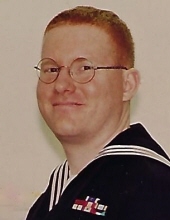 Obituary for Clarence Wayne Price
O B I T U A R Y
Wayne Price
Mr. Clarence Wayne Price of Greensburg, Kentucky, son of the late Cornelius Wayne "Tracy" Price and Gladys Keltner Price, was born on Thursday, January 8, 1970 in Tampa, Florida, and departed this life on Wednesday, December 27, 2017 at the Jewish Hospital in Louisville. He was 47 years, 11 months, and 19 days of age.
He had made a profession of faith in Christ and was a member of the Trammel Creek Baptist Church. He was employed with Amazon.com Warehouse in Campbellsville as a troubleshooter. He was a 12 year Veteran having served in the United States Navy, including the first Gulf War, as a Nuclear Engineer, and Aircraft Carrier Nimitz.
Survived by his second set of parents: Russell and Carol Dial, and Dorval Price all of Greensburg; a sister: Cyndi Ford Keltner of Florida; two brothers and sisters-in-law: Travis and Martha Price of Campbellsville, and Rhett and Becky Price of Greensburg; step-brothers and step-sisters: David Dial of E. Bernstadt, Kentucky, Malinda Neal of Fourmile, Kentucky, Tammy Neal of Pineville, and Beverly Johnson of Arjay, Kentucky; and a host of other relatives and friends.
Mr. Price was also preceded in death by four brothers: Roger Ford, Lerman Price, Ricky Price and Todd Price.
..........................................
The funeral services for Mr. Wayne Price will be conducted at 1:00 P.M., Cst., Saturday, December 30, 2017 at the Cowherd and Parrott Funeral Home with a Graveside Service at the Lebanon National Cemetery with full military honors conducted on Wednesday, January 3, 2017 at 1:30pm Central Time by the Marion County Veteran's Honor Guard. Bro. Trent Davis and Bro. Todd Davis officiating.
Visitation is requested after 9:30 A.M., Saturday at the Cowherd and Parrott Funeral Home until time of the funeral service.
The family has asked that expressions of sympathy take the form of donations to the Gideon Bible Fund, which can be made at the funeral home.
For online condolences log onto: www.cowherdandparrott.com or Facebook.
Previous Events
Public Visitation
Cowherd & Parrott Funeral Home
206 South Main Street
Greensburg, KY 42743
Central Time
Funeral
Cowherd & Parrott Funeral Home
206 South Main Street
Greensburg, KY 42743
Central Time
Graveside
Lebanon National Cemetery
20 Highway 208
Lebanon, Kentucky 40033
CENTRAL TIME FULL MILITARY HONORS
Cemetery Details
Location
Lebanon National Cemetery
20 Highway 208
Lebanon, Kentucky 40033