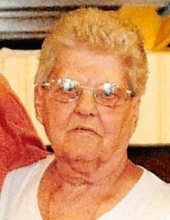 Obituary for Shirley Simpson Long
OBITUARY
Shirley Simpson Long

Mrs. Shirley Simpson Long of Indianapolis, Indiana, daughter of the late Lucian Simpson and Alice Gardner Simpson, was born on March 5, 1941 in Green County, Kentucky and departed this life on Monday, August 7, 2017 in Indiana. She was 76 years of age.
She was a devoted and loving mother and homemaker. She enjoyed word search puzzles, loved collecting roosters and hens of all sorts and she enjoyed bird feeding and watching.
Survived by her husband of 60 years, James R. Long of Indiana; a daughter: Linda M. Long of Indiana; a son: James A. Log (Dennis M. Henry) of Indiana; a sister: Florence Wyatt of Indiana; three brothers and sisters-in-law: Wayne and Janie Simpson of Indiana, German and Wilda Simpson of Green County, and Lucian Junior and Lydia Simpson of Metcalfe County; other brother-in-law and sister-in-law: Ed Harrison of Indiana and June Simpson of Green County; and a host of other relatives and friends.
Mrs. Long was also preceded in death by siblings: Dilma Harrison, Joyce Akin, James Simpson, and Bob Simpson.
................................
The funeral services for Mrs. Shirley Simpson Long will be conducted at 11:00 A.M., Thursday, August 10, 2017 at the Stevens Mortuary, 5520 W. 10th St., Indianapolis, Indiana with Entombment to follow in the Floral Park Cemetery, 415 N. Holt Ave., Indianapolis.
Visitation is requested after 9:00 A.M., Thursday at the Stevens Mortuary until time of the funeral service.
For more information concerning this obituary locally you may contact the Cowherd and Parrott Funeral Home in Greensburg. www.cowherdandparrott.com or Facebook.