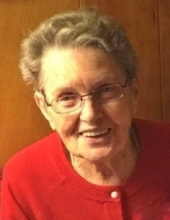 Obituary for Orvella Bloyd Clark
O B I T U A R Y
Orvella Bloyd Clark

Orvella Bloyd Clark of Greensburg, Kentucky, daughter of the late Bro. James H. Bloyd and Dora Moran Bloyd, was born on Tuesday, June 24, 1930 in Green County and departed this life on Monday, June 5, 2017 at the Hardin Memorial Hospital in Elizabethtown. She was 86 years, 11 months, and 12 days of age.
She had made a profession of faith in Christ, was a member of the Broadway Church of Christ in Campbellsville, and was a homemaker.
She united in marriage to Frank Porter Clark, Jr. on December 26, 1947 who preceded her in death on February 7, 1992.
Survivors include a son and daughter-in-law: James Steven and Peggy Clark of Campbellsville; a daughter and son-in-law: Diane and Junior Cary of Greensburg; five grandchildren: Megan and Ryan Harlow of Tennessee, Redonna and Chris Isenberg of Summershade, Misty and Josh Burton of Glasgow, Kristi Clark of Campbellsville, and Heather Durham of Elizabethtown; nine great-grandchildren: Isaiah Durham, Jordan Hinton, Blake Clark, Zane Harlow, Everly Harlow, Ethan Driver, Mahaila Burton, Zack Jewell, Amber and Anthony Graham; two great-great-grandchildren: Hendrix Graham, and Harrison Graham; two sisters and a brother-in-law: Roxie Davenport, Wanda and Bro. Leo Curry all of Greensburg; two brothers and sisters-in-law: Bro. Gleason and Barbara Bloyd, and Verlis "Shorty" and Loyce Faye Bloyd all of Greensburg; and a host nieces, nephews, other relatives and friends.
Mrs. Clark was also preceded in death by two brothers: Arnold Bloyd and Charles Bloyd.
................................................
There will be graveside services held at 12:00 Noon, Central Time, Wednesday, June 7, 2017 at the Neagle Cemetery in Green County. Cowherd and Parrott Funeral Home in charge of the arrangements.
Memorial are suggested to the Neagle Cemetery Fund, which can be made at the Cowherd and Parrott Funeral Home.
For online condolences log onto: www.cowherdandparrott.com or Facebook.