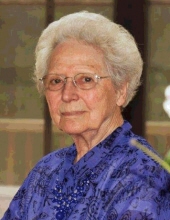 Obituary for Gladys Mae Duvall
Obituary
Gladys Mae Duvall, age 92, formally of Leitchfield, passed away Friday, 6/30/2017 at Franklin, TN. She was born in Grayson County, KY on 7/16/1924, the daughter of Benjamin and Edith Layman Hawkins.

She was a member of Clarkson Church of Christ.

She was preceded in death by her parents, her husband, Julius Forest Duvall and five sisters, Frances Mund, Lola Walters, Nona Williams, Nellie Cannon, Daisy Presley, and one brother, Murrell Hawkins.

She is survived by the following:

Two sons: Dr. Victor (Joyce) Duvall 0f Leitchfield, KY and Benjamin (Wanda) Duvall of Big Clifty, KY.

Four daughters: Patricia Owens of Lexington, KY, Brenda (Bill) Patterson of Greensburg, KY, Jane (Jesse) Gough of Brentwood, TN and Mary Ann (Gerald) Hunnicutt of Brentwood, TN.

Fourteen grandchildren: Cara (Chris) Flanders,Sara Duvall, Mark (Martha) Duvall, Eric (Kristine) Duvall, Deena (Shawn) Humphrey, Scott (Emily) Duvall, Alan (Lou Ann)Alexander, Barry (Gail) Alexander, Cary (Valerie) Alexander,Will Patterson, Greg Gough, Linda (Scott) Johnson, Rob (Heather)Zarrett, and Betsy Popinga and thirty-four great-grandchildren.

Visitation: Friends may call at Rogers-Oller Funeral Sunday, July 2, 2017 from 4:00 - 8:00PM (CDT) and after 9:00AM Monday.

Funeral: Funeral service will be at 11:00AM (CDT) Monday, July 3, 2017 at Rogers-Oller Funeral Home. Bro. Craig Embry will officiate.

Interment Burial in Cedar Hill Cemetery.
FOR MORE INFORMATION LOCALLY YOU MAY CONTACT COWHERD AND PARROTT FUNERAL HOME. THANK YOU.