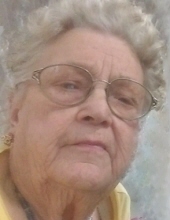 Obituary for Dorothy Lou Hazel Montgomery
O B I T U A R Y
Dorothy Lou Hazel Montgomery

Dorothy Lou Hazel Montgomery of Greensburg, Kentucky, daughter of the late Burr Hazel and Rachel Neagle Hazel, was born on Thursday, January 30, 1936 in Green County and departed this life on Sunday, July 30, 2017 in Green County. She was 81 years, and 6 months of age.
She had made a profession of faith in Christ and was a member of the Pleasant Ridge Baptist Church where she served as a Sunday School Teacher for many years. She was also a homemaker.
Survived by a son: Teddy Montgomery of Summersville; a daughter and son-in-law: Vicki and Jeff McIntosh of Greensburg; three grandchildren: Mandi Burd of Greensburg, Melony Sharpe of Mt. Washington, and Miranda McIntosh of Greensburg; six great-grandchildren: Houston, Kyler, Colton, Hazel, Hallie and Anniston; and a host of other relatives and friends.
Ms. Montgomery was also preceded in death by one grandson: Nathan Montgomery on March 21, 2011.
..........................................
There will be private viewing and private burial services only at the Hazel Cemetery per Ms. Montgomery's request.
Cowherd and Parrott Funeral Home in Greensburg are in charge of the arrangements.
The family has asked that expressions of sympathy take the form of donations to the Hazel Cemetery, which can be made at the funeral home.
For online condolences log onto: www.cowherdandparrott.com or Facebook.
Events
Cemetery Details
Location
Hazel Cemetery
General
Greensburg, Kentucky 42743
Memorial Contribution
Hazel Cemetery
Donations can be made at the funeral home.