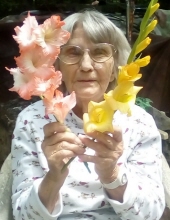 Obituary for Charlotte Jennie Michaels Bender
O B I T U A R Y
Charlotte Jennie Bender

Mrs. Charlotte Jennie Bender of Green County, Kentucky, daughter of the late Orville Michaels and Sara Jennie Eldridge Michaels, was born on Saturday, July 13, 1929 in Grafton, New York and departed this life on Sunday, October 1, 2017 at her home. She was 88 years, 2 months, and 18 days of age.
She was a homemaker and was employed, in her younger years, with the former Troy Built Toys in New York.
She united in marriage to Earl Wilcox who preceded her in death. She later united in marriage to Stanton Osgood, and Harvey Bender who also preceded her in death.
Survivors include 10 children: Ronnie Wilcox of New York, Gertrude Bender of Hodgenville, Henry Osgood of New York, Charmaine Fisher of Hodgenville, Mabel Dickson of Magnolia, Richard Osgood of Cub Run, Barbara Milton, Agnes Osgood both of Linnwood, Charlotte Osgood of Hudgins Community, and Donald Bender of Hodgenville; a sister: Alta Hoag of New York; 43 grandchildren; numerous great-grandchildren and great-great-grandchildren; and a host of other relatives and friends.
Mrs. Bender was also preceded in death by three sons: Earl Wilcox, Jr., Claude Iler Osgood, and Stephen Alexander Osgood; siblings: Alexander Michaels, William Michaels, Barney Michaels, Edward Michaels, Francis Michaels, Anna Mae Michaels Osgood, and Kate Michaels Duval.
.................................
At the request of Mrs. Bender cremation was chosen. There will be no formal services or visitation.
Cowherd and Parrott Funeral Home in Greensburg are in charge of the arrangements.
For online condolences log onto: www.cowherdandparrott.com.